After many years research "A District at War" is ready for publication and should be available from 24th May 2010. The book is a unique and comprehensive history of Irlam and Cadishead's involvement in the Great War. It contains 622 pages and includes many first hand accounts of the war from local soldiers, including their experiences on the Somme, Ypres and other historic events. It also contains 100s of photographs of local men.

All proceeds from sales of the book will go to the Hamilton Davies Trust which is a registered charity and undertakes community projects in the Irlam, Cadishead and Rixton with Glazebrook areas.

Copies of the book cost £12.99 each plus P&P. If you would like to pre-order a copy please let me know (no deposit required and no commitment) and I will contact you when the book is available.

Pete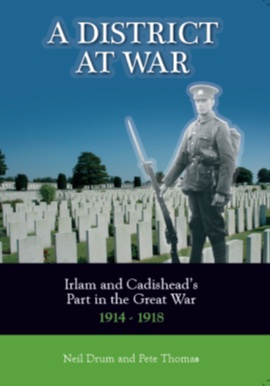 The following review appeared on the Great War Forum:

I've now had the opportunity of seeing an advance copy. Let me be absolutely up-front here in saying that this is the best example of this sort of "memorial" book that I've seen. Something like 600 pages packed with individual stories and interesting "stuff". The level of detail makes this a fine social and historical commentary on an industrial area, a similar commentary on the war, as well as a fine tribute to the men who served. It is a book of greater significance than just to the local area around Irlam. Neil and Pete have my absolute respect for the work done - and all the profits are going to a very deserving local charity. Go buy a copy!